Our princess is currently 27 months old.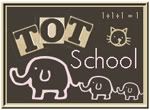 Tot school has been limited the past few weeks. I will admit, with this pregnancy winding down, I have not been doing the necessary planning and preparation for Tot School. There is so much other stuff to do.
We have done a little more work on "Training the Tot".
Click here
to read about the first few sessions. The princess did so well in our last session last week. I don't know if it was due to being indoors rather than out, or if it was the new toys I gave her to play with, or simply her mood that day. But she sat on her blanket and played with 2 dollar-store finds for 25 minutes. 25 minutes!!! So close to our goal!
I found a bag of beads at the dollar store, and she loved putting them on pipe cleaners. I also found these link-together toys (supposed to be used to make jewelry), and she enjoyed putting them together and taking them apart.
Look at that concentration!
The only other day we did Tot School, we used some Ff pages from
1+1+1=1
. She colored some objects that start with F, and we practiced our "fffff" sound.
I taught her to trace the Ffs, and she did pretty well at that.
She colored the capital Fs green and the lowercase yellow.
She is getting the hang of tracing from left to right, and she stayed on the lines really well this week!
Finally, shapes. She did better with these, though she needs some work identifying the more obscure shapes.
I will admit, I do not have any Tot School plans for this week yet. I'm tired. Maybe I will work on that tomorrow. :)