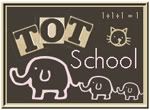 Our Princess is 21 Months Old
We continued learning colors this week. This week we only added the color orange and continued to work on the colors from the weeks before (blue, green, yellow and red). Our princess doesn't seem to be that interested in learning this week, mainly due to a cold, so we took things slowly. I had the princess try doing puzzles that I got from
COAH
. She was able to find which colors went together but needed a little help figuring out which piece went on the left and which went on the right. Look at her proud little face when all the puzzles were put together:
I also invested in some dollar-store pom poms that so many other moms have posted about using. I wanted her to sort these by color into the appropriate cup. I did not have high hopes for this activity, but she did a really good job...for about a minute. Then she realized it was more fun to pick up handfuls and stuff them in. :)
We took a trip to the library this week - something we have not been doing enough! We found some great books, and Princess is excited to have some new stories read to her every day. She is a daddy's girl, so she especially likes when he reads to her! See Monday's post for my review of
Llama Llama Red Pajama.
Our craft this week went along with our color theme. The princess painted her pumpkin. She had a blast. She began with one dainty finger in the paint:
Here is the finished product - a pumpkin only a mother could love :)
Free Play
Our princess loves this alphabet toy. It is one that has various functions but can say the name of the letter or number you push. I love interactive educational toys like this, but we do not have very many of them. I am glad this is one that she keeps coming back to!
We got a new hit video at our house this week from the Auto B Good series. Here is the princess, excitement written all over her face, watching her new video with Rainbow Monkey (the perfect stuffed animal for our color theme). :)
Next Week's Plans:
I plan to continue working on colors! Who would have thought? :) We are having a good time with this, and I enjoy coming up with things for her to do. She is slowly catching on, and it doesn't hurt to take our time! Next week, I want to work on making a Color Train - an idea I picked up from another mom at
The Princess and the Tot
. The idea is originally from
First Palatte
. I think this is a something my little one would really appreciate since she loves animals and loves anything with wheels!