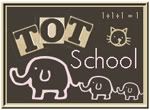 Our princess is currently 22 months old.
Tot school was a bit more unstructured this week than in weeks past. We spent a lot of time playing with our sensory bin. I cannot believe what a big hit this has been with the princess! I added a few Silly Bandz that we had around the house and she LOVED those. The first day I added them, she played with the Silly Bandz alone for half an hour!
We sang a lot of songs and played music on one of her toys this week. This was an unintentional Tot School activity. Princess just kept gravitating towards her stuffed animals that play music. She learned motions to "The Wheels on the Bus" this week. Super cute!
I finally completed the Animal Train I had intended to make two weeks ago. I got this idea from
The Princess and the Tot
, and the idea is originally from
First Palette
. My girl loved this train...but it was off the wall and torn in pieces within 15 minutes. :) She still plays with the animals, and I plan to repair the train. One thing I learned was that it would be helpful to mount the train to a background rather than directly to the wall. That would make it more difficult to destroy, and it would also make it easier to get the animals into the cars.
I really do not have any plans yet for next week. I just realized we have not done anything to focus on Thanksgiving. Perhaps we will make a turkey! :)