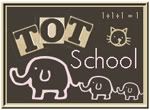 Our Princess is 21 Months Old.

Tot School was a bit lame this week. Neither of us was feeling well, so we really only did 2 days of "school". I will admit, we spent a lot of time in front of the TV this week. We both seem to be on the mend, so hopefully next week will be better!
Colors
We continued working on colors this week. We spent some time doing puzzles and finishing up the princess' color book - both activities I got from
COAH
. She had so much fun with both of these activities. Her color book is now "laminated" (I went the cheap route and just covered it with clear Contact paper), and we look through it and talk about the pictures daily.
I put together our first sensory bin! I have seen these on so many other moms' sites and they all seem to be themed. I just wanted to try one - see what the princess thought of it. So I used what we had in the house and tried to put in a variety of textures. Our sensory bin includes spiral pasta, dry kidney beans, pom poms, cotton balls, foam shapes, ribbons of different textures, a measuring spoon, a huge clothespin, some cutouts from scrapbooking, and two McDonald toys that she likes to fill and empty. I was pleasantly surprised the first day when I pulled out the bin and she played for 20 minutes! She was even cooperative about keeping everything on the blanket...for the most part. I am excited to add this to our Tot School and am looking forward to coming up with a theme for a new sensory bin in the next few weeks.

I printed out the templates for my Train I wrote about last week, and I plan to work on that in the coming week. We will continue learning colors, and I hope to have some activities and photos to share with you next Saturday!