You may remember me posting quite awhile ago about Tot School that I had been working on with Princess. Basically, it is playing with a purpose. The concept is to use playtime as a time to also teach Princess, and also as a time for the two of us to spend quality time together.
I had given up on Tot School for awhile because I did not have many resources, and I did not want to put forth the effort to come up with things to do. After Princess' doctor's appointment last week, I was encouraged to get back into it. The doctor had said that Princess' receptive language was great and that she was a smart little girl. She told me to work on shapes, animal sounds, colors, numbers, and move right into her ABC's. I'll be honest - I never really thought of working on those things with her. I guess I thought they would come naturally?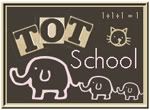 This week, I took some cookie cutters that we got for a wedding gift and cut out foam shapes in various colors. I highly recommend cookie cutters for Tot School. They're very versatile, and I have a feeling you will be hearing about many more cookie cutter projects in the future.
Then I asked Princess to pick up certain shapes. For example: "Where is the purple doggie?" She got most of those right.
Since she was getting the shapes right, I decided to work on colors. I cut out hearts in various colors and asked her to bring me the blue heart. At that point, Tot School was over for the day. She lost interest and ran off to another activity. We'll try again another day. :)
Through some recent conversations with friends, I have really been challenged about my work ethic. I am currently a stay-at-home mom, and I do view that as my job. But I am much lazier at home than I would be in a work environment. I have been challenged to work hard at my job as a wife/mom/homemaker, because it is the job God has given me to do right now.
These past two days, I have gotten more accomplished than I did in the previous two weeks! I guess that is another motivation behind getting back into Tot School, and I look forward to more projects in the days ahead. :)