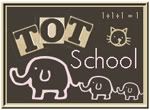 Our princess is currently 23 months old.
We had a bit of a winter wonderland here this week. This was our first real snow of the year, and of course Princess doesn't remember snow from last year. She kept looking at it and saying "uh-oh". Finally we took her outside so she could experience it "hands-on". Daddy taught her to shovel. :) Here also is a picture of our back deck, covered with snow!
The princess enjoyed her sensory bin a bit more this week. I am still amazed by how long she can entertain herself with these. This week, she decided she was going to get IN the sensory bin - which was quite a feat, considering our bin is the size of a shoe box and she is a 23 month-old!
We do not get our picture taken together very often, so I had to share this one from this week:
Now on to our Christmas-themed Tot School week: We spent some time playing with Nativities. Our church has a Princess-sized nativity, and Princess likes to walk over there to check on Baby Jesus every now and then. She has a VeggieTales nativity at our house, and somehow the veggies made their way into her doll house and onto her playground this week. I think Daddy is partly to blame for that one.
I decided it would be a good idea for the two of us to make salt-flour Christmas ornaments this week. Here are some photos of the process. I rolled out the dough while Princess chose some cookie cutters.
Then the two of us cut out the ornaments. It was difficult to obtain pictures of this part of the process, considering the princess was on my lap. :)
Here are our ornaments, ready to be baked in the oven! Notice the circular one with her handprint inside. Awwww!!!
After baking the ornaments came the fun part: Painting! Princess had a blast with this. Of course, I only let her use washable finger paints. This was a good idea in theory, until I realized that the fingerpaint does not sufficiently cover the flaws of the ornaments! We stopped after about 5 ornaments, and I plan to put a base-coat of acrylic on the rest before letting her decorate with her finger paints. That will be a project for next week.