I have to explain my lack of posts for the past week or so. We were out of town, visiting family in Ohio over Thanksgiving week. We had a wonderful trip and enjoyed seeing everyone. I just have a few photos to highlight.
First, our princess received a surprise from her Aunt J - a Bluebeary double (or doppleganger, as Aunt J refers to him). Princess' reaction was priceless. Daddy just handed her the new Bluebeary as she was walking past him, and she took him without thinking about it. Then she stopped, turned him over, inspected him, looked at his tag, and repeated "uh-oh" several times before Daddy showed her that it was a double. I wish we had thought to videotape that!
My husband taught me how to shoot a shotgun on this trip. I had never even held a gun before, so I was excited to learn. Unfortunately, my aim with a gun is worse than my aim with a softball. I was told that you don't really have to aim a shotgun, you point it. The bullets spread out as they leave the barrel, so it's easier to hit your target. Well after five shots, my target was still intact. Maybe next time?
Now on to Tot School: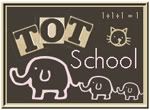 Our Princess is currently 22 months old.
As I mentioned above, we were out of town for a little over a week, and Tot School went on hold while we were gone...and for a brief recovery period once we got home. For the month of December, we are focusing on Christmas. I purchased an advent calendar book the year before Princess was born, and we are using this calendar to begin a family tradition this year. I love this calendar, because it has a tiny storybook to read each day. Each story is short, but they lay the background and set the stage for the story of Christ's birth. We have learned a little bit about the holy land, prophecy, and Mary so far. Princess loves these books - probably because they are just her size. I love that we are able to spend a few minutes as a family to focus on the meaning of the season each evening in December.

I also put together a Christmas/winter sensory bin to explore this month. Most of the items in this bin were purchased from Walmart's holiday section. We used the bin for the first time tonight, and it was a big hit. This month's sensory bin includes red and green pipe cleaners and pom poms, snowmen erasers, "gift" table toppers, "snowflake" table toppers, a slinky, and some other type of ball thing that I do not know the name of. It is not a wide variety of objects, but she keeps herself entertained! The princess especially loved the slinky. :)

Finally, the Christmas tree. We set it up last night, and my husband suggested I make sure it was lit when the Princess got up this morning. What a hit! She even made sure her baby doll got a chance to enjoy it. Oh...and we were not allowed to turn the tree lights off all day. Princess would not allow it. :)