Our princess is currently 25 months old.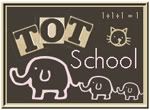 I had every intention of skipping Tot School last week, out of pure laziness. Then the princess woke up Thursday morning at 5:15 with a cough and runny nose. Nothing but Tot School would console her. So we did 2 days of it - totally unstructured. It was great!
We have a drawer in our living room where I keep all her Tot School activities. I opened the drawer for her, and she selected the things she wanted to do this week. The puzzles on the left are from
COAH,
and she has always loved thm but still gets upset when they don't line up properly. The one on the right is from
Home Grown Hearts
. This was a challenge for her, because the umbrellas and rain drops are not color coded. She got confused over whether she was supposed to match colors or letters and needed a lot of guidance.
Left: I have always loved this paintbrush matching, but she has never been a fan until Thursday! Right: I let her attempt to use scissors for the first time. I don't have any safety scissors yet though, so she tried out my scrapbooking scissors. Ha! Way too big for a 2 year-old's hands. :)
Left: I finally made some pom poms into magnets and let her play with this page from
COAH
. Big hit! Right: She always loves playing with pom poms, and she was naming colors as she shoved them into the box.
Left: We finished up her "B" page that flopped the first time around when we tried to glue on bubble wrap. This time we went for simple butterfly stickers. Much easier. Right: The princess is getting independent. She has to do this herself nearly everytime we eat. 
She's going to be a good big sister. :) We have been talking about babies a lot lately, and she had me wrap up her dollbaby, then she gave her a bear and carried her around the house. What a sweet little momma. :)
This week we are learning the letter C!