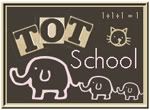 Our princess is 25 months old.
This week in Tot School, we worked on the letter H. We did some of
COAH's H is for Hippo
activities, and we made some pages for the princess' ABC book. I wanted to do the letter H this week so we could do some heart activities for Valentine's Day as well.
She is really enjoying using the glue stick. She is also getting really good at it! Her "H" page featured a heart, hippo, hand, hot dog, hat, hammer, horse, helicopter, hula hoop, and her 2 "H" cousins. Hippo was a new word for her this week, but she did not grasp the letter "H". We will have to return to this at a later time.
She absolutely LOVES this ABC puzzle from
1+1+1-1
. She asks for it almost daily. The heart puzzle is also from
1+1+1=1
, and this is still a challenge for her. She is not a big fan, and I think it's because everything is the same color. That makes it a bit more difficult.
I cut out these hippo size sorting cards from
COAH'
s
H is for Hippo
, and I wanted her to line them up by size. I realized this would be a difficult concept. Look what she did on her own though! She stacked them by size. What a little smartie. Notice the red one on the right? She got finished and held that one up, saying "uh-oh". :) I realize I'm her mom and I'm going to be impressed with most of the things she does, but I thought this was great.
In honor of
Muffin Tin Monday
, I served her Valentine's dinner in a heart-shaped ice cube tray. :) She ate a lot of pinto beans that evening - something she has not eaten in awhile!
We did
COAH
's letter H activity and put foam heart stickers on the letter. Again, I know I'm her mom...but she had only verbal guidance and put all her stickers ON the letter H...not around it.
And we made
COAH's
hippo picture. So cute! Again...crazy Mom was impressed that the all pieces were placed correctly with only verbal guidance! Note: The eyes and nostrils were already in place. She's not THAT good. :)
What week would be complete without coloring with markers?! Of course that's a hippo picture, and his ears are heart-shaped. He-he, love it!
Finally, our princess is getting to be such a GIRL! I love this little outfit that someone from church bought her. She loves the tutu and just twirls and twirls when I put it on her. Crazy girl!