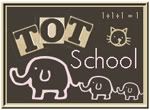 Our princess is currently 23 months old.
We continued learning colors this week. I have become lazy in regards to Tot School lately, so I decided to spend my Saturday evenings doing Tot School preparations. This week, we continued to work on colors. She is really getting this down. She still does not verbalize color names, but she matches correctly, sorts appropriately, and brings me the proper color when asked.
I downloaded this activity from
Home Grown Hearts
. The idea is to match the clothing by color, and if you look closely, you can see there are different shades of each color as well. The princess loved this activity, and it was rather easy for her. I personally had a difficult time telling the difference between the red and orange shirts, but she got them right every time!
I downloaded this Paint Brush Color Matching game (our first file folder game!) from
COAH
. I love it, and I think it's a great idea. The princess...not so much. She just likes to take the paintbrushes out and play with them. She also enjoys watching me do the game, but her attention span is short for this one.
We also continued to play with her new Melissa and Doug toys. Here she is, showing me "yellow". :)
And finally, I love this picture. This little girl has not taken a nap since last Sunday. This is the third time we have hit a nap-fighting phase, and I pray this is only a phase. I am not ready to give up nap time! This is how I found her yesterday, after an hour of "napping" in her crib. :) (The pink at her feet is a wearable blanket she managed to unzip and remove.)