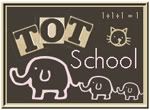 Our princess is currently 24 months old.
We had a relaxing week of Tot School. This was Birthday Week! Our little princess turned 2 on Monday. We did not have a party or anything, but we took her out to Wendy's for dinner, I made her some cupcakes, and she got to open presents before she went to bed.
I am not a cake decorator by any means. She loved these cupcakes though. She refers to them as "E" (which is what she calls every letter) and asks for one on a daily basis. Really, she just likes the frosting. I don't think she has even tried the cake part. That's my girl! :)
Opening gifts with Daddy and Mommy
We did do a little bit of color sorting this week.
She was very into counting things this week as well. She does not enunciate numbers well at all. In fact, she just grunts. But she gets the point across that she wants to count, and she wants you to count with her! This week we counted her baby dolls repeatedly as she transferred them back and forth from her Cozy Coupe to Mommy's lap.
Since she is showing interest in counting, I am going to begin teaching her numbers. Next week we'll focus on the number 1 and see how it goes. I would LOVE for her to actually say the word "one" by the end of next week!
Here's a little closing shot for you. Daddy let her take a ball in her crib for a nap one time, and she refuses to sleep without it now. Here's my tired girl, all ready for bed.