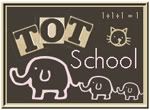 Our princess is currently 23 months old.
I recently became a Melissa and Doug fan. After seeing their products in the store, I began to wonder if they truly were worth the investment. Yes, they are wooden toys and should last longer than most plastic ones. But were they really worth the extra money? I read many product reviews and asked questions of Facebook friends, and I finally decided to put some Melissa and Doug items on my daughter's Christmas list. I am glad I did! These products are fun, versatile, and seem to be durable. I am excited about putting them to use for Tot School!!
This week we used Princess' new Melissa and Doug toys to work on colors and shapes. My parents got her the
geometric stacker
, which is a toy that she will grow into. For now, she enjoys sorting and stacking by shape. She does not quite grasp the concept of stacking by size, and the square stacker is too complicated for her. But she gets the correct shapes on the correct peg every time!
My husband's parents got her the
sort and snap color match
. She did not show much interest in putting the correct colors on the picture (as seen below). She tolerated this for about 2 minutes before deciding her baby dolls looked like more fun.
I took the picture off the board, and she had a great time sorting and lining up the snappers by color. She still does not say the name of colors, but she followed directions and handed me the correct colors when I asked.
My in-laws also got her the
stack and sort board
. This toy is a bit simple for her - she sorts the colors in no time. I like that I will be able to use this later to teach shapes and counting.
I got this next idea from a
Clariity blog post
. I had posted a long time ago about
using cookie cutters and dollar-store foam to make fun shapes
for learning. What I never thought of until reading the Clariity blog post was that these shapes stick to the wall when wet and can be used in the bath tub! For my daughter, who is currently anti-baths, this is a brilliant idea. She LOVES her shapes, and she loves to sort them. I just trick her into doing this activity in the bath tub, and then I can get her clean at the same time! She did a fairly good job of sorting by color. This activity was also useful for teaching her "above", "below", and "beside" as I gave her verbal direction for where to put each shape.
Then this picture is just too cute. I love her pigtails. But I also love the "uh-oh" expression on her face as she shows me that her foam airplane ripped. :)