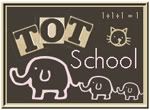 Our princess is currently 24 months old.
Last week we began rotating the princess' toys. Today was the first day to swap some toys out for her. I chose to do this during nap time, and it was like Christmas when she woke up. She went crazy over her Elmo airplane that she hadn't seen in a week. She pulled out her shopping cart and pushed it around for a long time. She did not even seem to notice that her dollhouse and Cozy Coupe (both of which she plays with for long periods of time daily) were gone. This is great!
For Tot School this week, we did a little bit of Valentine's Day, matching, colors, and a tiny bit with numbers. I am still looking for crafts and games to teach numbers to a 2 year-old and am open to suggestions!
I got ambitious last week and put together quite a few games for the princess. I got this one from
Home Grown Hearts
. Princess liked pointing to the pictures and naming the ones she knew. She did really well matching the proper colored crayon to each picture.
This was also from
Home Grown Hearts
. Actually, this was supposed to be put on a ring and used as a book. The princess found the pictures before I had a chance to do that and had such fun making them ride around. I decided to have her match the crayons to the horses, and she loved that.




I had an idea to use these cute ice trays from Target and have her put "1" ball in each opening. She wasn't a big fan. (See her expression in the picture on the right for proof!) She did enjoy curling up the ice trays though. :)
I got the next three games from 1+1+1=1's
Valentine's Tot Pack
. This first puzzle was difficult for the princess and she gave up on it pretty quickly. We haven't worked on shapes that much, and I think it threw her off that there was only one color.
She LOVED this one. She asks to play it a lot now. It helps that her favorite animals are included: fish, dogs, monkeys...the only favorite missing is the horses. :)
And finally, an attempt at numbers. I wrote the numbers 1-5 on each of these hearts, and I had her match the numbers to each other. She did it perfectly the first try. She just seems to have a head for puzzles and matching. I wonder if she'll be a math lover.
*Edit: The princess just spontaneously said "ABC". :) This followed Daddy and me serenading her with a Sesame Street version of the song. I do love Sesame Street.